Learning Goals
<Inquire-Think-Learn Curriculum>:
At EtonHouse we believe that curriculum is, in its broadest sense, each and every learning opportunity that a child experiences in a day, both planned and incidental. We also acknowledge the experiences that a child has outside of the school setting and the influence of the specific socio-cultural context in which children develop. We strive to work in partnership with parents towards the establishment of strong home/school partnership to best support children's learning and development. Our pedagogy reflects current research and ongoing development in the field of early childhood education (John Dewey, Lev Vygotsky, Howard Gardner), we also acknowledge the strong influence of the work of our colleagues in the infant and toddler centers of Reggio Emilia, Northern Italy.
Five principal categories identify what children learn in the Inquire-Think-Learn Curriculum. This organizational framework defines a structure around which planning and evaluation is developed in order to provide a rich and productive educational experience for our children.
The Child as a Social/Cultural Being

Understanding Self and Others

The Child as Communicator

Speech and Language including Multiple Literacy's and Symbols

The Thinking Child

Building understanding of the World, Creative and Logical Thinking, Mathematical, Scientific and Technological Understandings

The Physical Child

Building Health, Safety and Physical Understandings;

The Child of the 21st Century

Building Environmental Understandings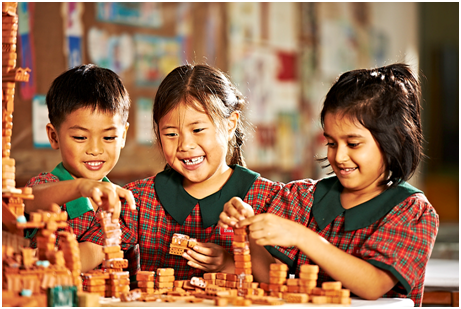 The Hundred Languages of Children
– By Loris Malaguzzi, Founder of the Reggio Emilia Approach
The child is made of one hundred.
The child has
a hundred languages
a hundred hands
a hundred thoughts
a hundred ways of thinking
of playing, of speaking.A hundred.
Always a hundred
ways of listening
of marveling, of loving
a hundred joys
for singing and understanding
a hundred worlds
to discover
a hundred worlds
to invent a hundred worlds to dream.
The child has
a hundred languages
(and a hundred hundred hundred more)
but they steal ninety-nine.
The school and the culture
separate the head from the body.
They tell the child:
to think without hands
to do without head
to listen and not to speak
to understand without joy
to love and to marvel
only at Easter and at Christmas.
They tell the child:
to discover the world already there
and of the hundred
they steal ninety-nine.
They tell the child:
that work and play
reality and fantasy
science and imagination
sky and earth
reason and dream
are things that do not belong together.And thus they tell the child
that the hundred is not there.
The child says:
No way. The hundred is there.
---
This page was last edited on June 13, 2016