Languages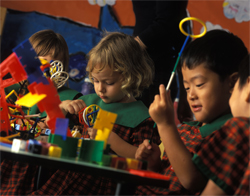 The school prides itself on providing a well-rounded curriculum that allows children to be exposed in English, Chinese Mandarin and Japanese languages.
Under the International Preschool division we offer English and Chinese (as a 2nd language) programs and Japanese language under the Japanese Early Learning Center.
Your children could also enrich their language abilities through our various after school language classes in various forms.
---
This page was last edited on November 1, 2016