Newton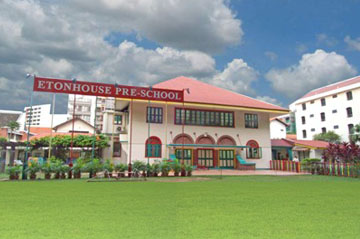 The Newton Road branch of EtonHouse is set along the leafy strip of Newton Road. It is an attractive building of two stories, sporting a very large shady playground and an attractive garden. The entrance into the foyer area is inviting and opens into a suite of classrooms for the younger children.
Upstairs the classes are spacious and are designed for the older age group. A walk through the garden finds the Pre-Nursery tucked away in safe seclusion.
The programme at Newton is offered to children from 18 months to 6 years of age, 5 days a week. There is a choice of classes in English, full day and half day or our bilingual Pre-SAP programme comprising of classes in English and classes in Mandarin. A choice of a second language in either Japanese or Mandarin is offered to all children. The pre-school also has  specialist teachers for music and physical education.
EtonHouse Newton is the first stand-alone pre-school in Singapore to get the IB PYP World School authorisation. The PYP is an internationally renowned programme that aims to develop the whole child by aiming for the development of knowledge, conceptual understanding, skills and attitudes in children.
EtonHouse at Newton gives an air of space, warmth and friendliness as children cheerfully greet the teachers and staff each morning as they happily skip into school to join their friends for the start of another exciting day in school.
Transport
A comprehensive bus service is available at a reasonable cost. These air-conditioned buses collect and return students to and from homes in the general vicinity of the school. All buses have individual seat belts and bus 'aunties' are in attendance.
---
This page was last edited on August 22, 2016