Mountbatten 718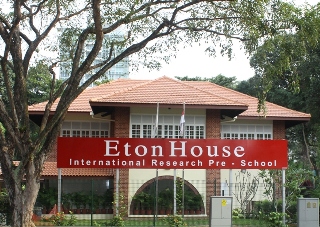 EtonHouse pre-school at Mountbatten 718 offers a unique programme for children aged 18 months to 6 years within an international pre-school environment. The pre-school is built over a land area of 6050 square metres and a built-up area of 1250 square metres.
In Reggio Emilia, they refer to the learning environment as the 'third teacher'. At Mountbatten 718, our teachers pay great attention to the look and 'feel' of the classrooms (ambience). carefully organizing spaces for small and large group work.
We believe that children have a right to a respectful environment. Through careful choice of colour, natural materials and the use of natural light, we hope not only to build relationships between the indoor and outdoor learning spaces, but also to ensure our classrooms are aesthetic as well as functional spaces. The outdoor playground has been designed specifically to ensure that children build deep relationships with the natural world.
The pre-school has sensory gardens (scented planting areas; texture gardens), a children's kitchen, a vegetable garden, a water course, digging and construction areas, a large and well-equipped library and well-resourced classrooms. We have also imported a range of mobile climbing equipment from Australia, which can be used very flexibly and ensures that our teachers can plan for a variety of different climbing and co-ordination challenges. 
EtonHouse International Research Pre-School at Mountbatten 718 is now an authorised IB World School for the Primary Years Programme (PYP). Moving forward as an IB school, we are now able to share more curriculum documents outlining the learning outcomes that the children will be working towards throughout their time in school. This will not change our approach to teaching and learning, as we have been adopting this curriculum framework in N2-K2 for the last couple of years.
For further information about the IB and its programmes, visit http://www.ibo.org
---
This page was last edited on August 22, 2016