Mountbatten 223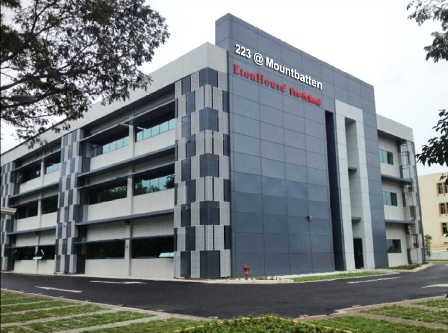 EtonHouse at 223 Mountbatten Road is located in the heart of the east coast, just minutes away from SMRT's Mountbatten station (Circle Line). It also has easy access to multiple bus routes towards the city.
The campus is spread over 20,000 square feet of covered area with state-of-the-art facilities and offers an engaging and high quality learning environment for children aged 18 months to 6 years of age. Run by an award winning team of educators, the pre-school offers a stimulating early childhood  programme that adheres to international best practice. 
The learning environment includes an indoor playground equipped with unique open-ended learning materials and a dedicated learning centre that is equipped with wooden blocks and LEGO (registered trademark) bricks. There are also creative vertical gardens that support children's interaction with the natural world through innovative gardening practices and ideas.Catch a glimpse of the school's beautiful learning environment here
Dedicated studios for Performing Arts, Visual Arts, Cooking, Library and Light offer children countless opportunities to engage and learn across multiple disciplines. The classrooms are bright and equipped with learning corners to cater to the individual child in an integrated play based learning.
An integrated bilingual programme in Mandarin and English with additional options of Japanese, Hindi and Malay is offered.  These programmes are designed to spur the child's interest towards their mother tongue, or a new language altogether. In addition, children can also opt for the new Mandarin Early Childhood Program or MECP - a programme delivered entirely in Mandarin. The new MECP classes will commence with effect from 1st July 2013.
At EtonHouse 223, learning is differentiated. The highly qualified educators plan for learning experiences based on careful observation of children's interests and their learning goals. The environment is culturally diverse with a wonderful mix of Singaporean and expatriate families. The children are therefore immersed in an international environment that is rich in diversity. The teachers in the new campus are the same as the ones in the earlier EtonHouse campus on 764 Mountbatten Road and have won several accolades for their innovative teaching and learning programmes and standards of practice. The school therefore has an established track record and in the past has had outstanding graduates who have excelled in both the international and Singapore local school environment.
List of Awards:
ECDA Early Childhood Innovation Award (Distinction) 2015
CHERISH (Championing Efforts Resulting in Improved School Health) Junior Award 2014 by Singapore's Health Promotion Board (HPB) and Ministry of Education ( MOE )
NParks Community In Bloom Platinum Award 2012
MCYS Early Childhood Innovation Silver Award 2012
MCYS Outstanding Early Childhood Teacher Award 2012
MCYS Outstanding Early Childhood Leader Award 2011
Current Classes:
Bilingual Pre-Nursery to Kindergarten Two Classes
Mandarin Early Childhood Programme (MECP) for N1 & N2
Contact us at m223@etonhouse.edu.sg for more details
---
This page was last edited on November 3, 2015